Why is there a Decree on sanctioning administrative violations in the field of tourism?
Monday - 27/05/2019 02:05
The formulation of a Decree regulating the sanctioning of administrative violations in the field of tourism is extremely necessary in current conditions in order to comply with the law and practice of tourism.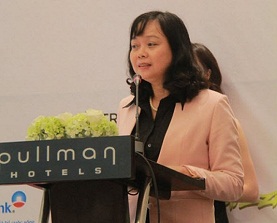 14
Ms. Nguyen Thi Thanh Huong, Deputy General Director of VNAT. Picture: Nguyen Ha
Travel Law No. 09/2017 / QH14 with many new points
The Law on Tourism No. 09/2017 / QH14 was adopted by the National Assembly dated on June 19, 2017 and officially came into force on January 1, 2018. It has many new features compared to the Law on Tourism 2015. This requires It is necessary to study in detail the violations in order to formulate a Decree stipulating the sanctioning of administrative violations in the field of tourism.
According to Nguyen Thi Thanh Huong, DeputyGeneral Director of the Vietnam National Administration of Tourism, "one of the key points of the Tourism Law of 2017 is to take tourists as the center of all tourism activities. Many relevant contents such as regulations on management of tourist sites, tourist places, tour business services, tour guides and other tourism services have been adjusted and supplemented to ensure security,the safety, legitimate rights and interests of tourists, creating favorable conditions for tourists to visit and travel. "
Specifically, for business travel services, Travel Law 2017 regulates on: Travel business enterprises must not take advantage of tourist activities to bring Vietnamese people abroad or from abroad to Vietnamillegally; To publicly announce the name of the enterprise and the number of licenses for travel business services on the signboards at their head offices, branches, transaction offices, travel contracts, advertising publications and e-transactions; must buy insurance for tourists; use tour guides to guide tourists on travel contracts; Enterprises engaged in domestic tour business services must make escrow deposits and be granted licenses for domestic tour business services.
In tourist accommodation business activities, the owners of tourist accommodation establishments may not advertise goods of the right types and grades of tourist accommodation establishments or advertise their kinds and grades when they have not yet been recognized by competent public agencies; Only use the word "star" or star image to advertise the category of tourist accommodation establishments that have not yet been recognized by competent agencies; To ensure the maintenance of conditions for tourist accommodation service business, maintaining the quality of tourist accommodation establishments according to the types and grades already recognized.
Providing other tourist services which are recognized to meet the standards of tourist service: They must satisfy the business conditions and standards for tourists in accordance with the provisions of the Tourism Law and relevant provisions of law during the course of business.
In tour guide activities: Tour guides are allowed to practice when they meet three conditions: a tourist guide card; Having contracts with tour business enterprises, tourist service providing enterprises or members of professional social organizations; Have a guideline contract with a travel service business enterprise or a written assignment under the tourist program.
At the same time, the Tourism Law of 2017 also added new regulations on the obligations of tour guides compared to the 2005 Travel Law, such as reporting to business travel service providers on change decisions. Travel program in case tourists request; participate in updating knowledge according to regulations; to bring with them the papers for assigning the tasks of enterprises organizing tourist programs and tourist programs in Vietnamese while practicing their profession, in case of guiding international tourists, they must bring their travel programs with them, Vietnamese and foreign languages.
In ensuring the safety of tourists, addressing tourists' proposals: The Tourism Law of 2017 adds specific responsibilities of organizations and individuals managing tourist sites, tourist destinations, schedule in ensuring the safety of tourists and timely settlement of tourist recommendations.
Decree 158/2013 / ND-CP and Decree No. 28/2017 / ND-CP do not cover all violations in the field of tourism.
After 04 years of implementation, many provisions in Decree 158/2013 / ND-CP dated 12/11/2013 of the Government on sanctions against administrative violations in the field of culture, sports, tourism and advertising areno longer in line with the realities of tourism. On March 20, 2017, the Government issued Decree No.28/2017 /ND-CP amending and supplementing a number of articles of the Government's Decree No. 131/2013 / ND-CP dated 16 October 2013,provisions on sanctioning administrative violations of copyright and related rights and Decree No. 158/2013 / ND-CP.
However, some violations, tourism relationship arise in practice,has not been adjusted in Decree No. 158/2013 / ND-CP and Decree No. 28/2017 / ND-CP.
Specifically, tourism activities in the past time has many violations of the objects but not yet clearly defined in the legal documents, especially there are no sanctions for violations. As a result, the two travel business enterprises have signed cooperation contracts with each enterprise to carry out a part of the tourism program (one of which has to carry out the procedures for personnel selection, to carry out, pick up and drop off tourists ...). Just as the real estate business sells vacation contracts to tourists ...
Therefore, it is necessary to thoroughly handle the violationbehaviours by punishments, ensuring the number of tourists as well as the sustainable development of the tourism industry in our country in the coming time.
On the other hand, after the Tourist Law of 2017 takes effect, through inspections and testing of many violations of the provisions of the Law of Tourism in 2017, however, the inspection agency can not carry out sanctions because of lack of punishment, violations of this regulationare not included in Decree No. 158/2013 / ND-CP or Decree No. 28/2017 / ND-CP. Or having violations specified in the above two decrees but no longer in accordance with the Law on Tourism in 2017.
Therefore, the development and early issuance of a Decree regulating sanctions in the tourism sector is necessary to enhance the efficiency and effectiveness of state management while attracting tourists and ensuring the sustainable development of tourism.